I got this one from Margo at Margo Treehugger check out this blog
here.
Such a nice pretty blog. I hope you all enjoy it as much as I do.
It is the "when life gives you lemons award". It is about attitude and gratitude. What a nice award don't you think. I mean sometimes those lemons seem to be flying at us. I think some days I just need a baseball bat to whacked the darned lemons into oblivion....you see there is more than one way to skin a lemon.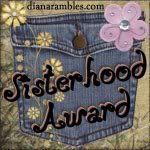 This one is from Kaela-Kane at Enroute to Life
Thank you Kaela. I love your blog it always makes me smile and sometimes downright giggle.
And I got it again from
Debbie at Wrighty Reads
, Check out here blog
HERE!!
Sisterhood, no need to explain right.. "we are family.. I got all my sistah's with me..." Thanks so much!!
I am behind in reading, chores and a lot of life's little issues (pulled muscle in my back). I want to say thanks so much for the awards. I am not able to bestow them out... but please feel free to snag them and pass them around!
Happy Blog Week to everyone.